The development and growth of the baby in the womb is one of the great miracles of life. In homilies I have outlined the development and growth of the baby in the womb. Most people were not aware of the details and were very touched. There are many Scripture passages concerning life in the womb. I combined the details of the development and growth of the baby in the womb with the Scripture passages during a prayer meditation in one Bible Course I taught in Ireland before I came to minister in the USA and it helped people to understand the miracle of life in the womb. I recorded that meditation on a CD entitled Our Life, God's Gift and you can listen to it below and other samples from the recording also. I gathered the information from various life sources and from a book entitled Miracle of Life: Devotions for Expectant Mothers by Wells and Gire and published by Zondervan. Since making the recording another interesting book has been published From Conception to Birth: a Life Unfolds by Alexander Tsiaras and Barry Werth and published by Vermilion Books (Random House). There are many other books also. The CD is no longer available but I invite you to listen to the samples below.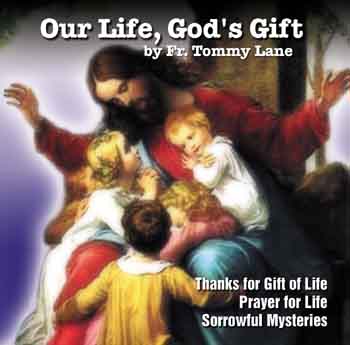 mp3 SAMPLES FOR LISTENING BELOW
(I have reduced the quality here to suit 56k (dial-up) modems)
When the prayer begins, in order to reduce distractions, I invite you to close your eyes and keep your back upright and both legs on the ground! Don't just listen, please pray with me!
Thanks for Life (Baby Development and growth in the Womb) mp3
This meditation has received very positive feedback from listeners. In it I lead you into prayer with Jesus through every stage from conception to birth using biblical meditations with background music. Listeners have said, "It should be in very home."
Let me live mp3
(included here with the kind permission of Jim and Margaret Byrne of Navan, in County Meath, Ireland, who wrote the lyrics and music and own the copyright)
Fifth Sorrowful Mystery mp3
More prayer samples in Praying the Bible