by Fr. Tommy Lane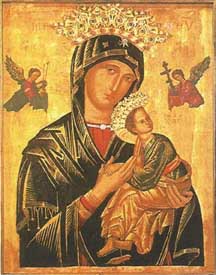 I would like to begin by looking at the icon of Our Lady of Perpetual Help. Icons are the sacred images in the Eastern Churches. Icons do not have lifelike features; everything in the icon is a symbol, even the colors. In the icon of Our Lady of Perpetual Help, Mary is holding Jesus in her arms. Both Mary and Jesus do not look happy because they have seen a glimpse of his future suffering. Jesus is not looking towards her; he is looking away. He is looking at the Archangel Gabriel who is carrying the cross and the nails to be used in the crucifixion. On the left the Archangel Michael is carrying more of the instruments used in Calvary, the reed, the sponge and the lance. The young Jesus got such a fright when he saw this vision of his Passion that he ran to his mother and she is holding him comforting him. He ran so quickly that he partially lost one of his sandals; notice the way it is dangling from his foot. Also notice the way he has his hands around Our Lady's thumb. The original icon of Our Lady of Perpetual Help turned up in Rome in the 1490's and Pope Pius IX entrusted it to the Redemptorists in 1866 and asked them to spread devotion of Our Lady of Perpetual Help. You can see the original icon in the Church of St Alphonsus in Rome (Via Merulana near the Basilica of St. Mary Major). Many miracles have been attributed to praying before this icon.
Just as Jesus ran to his mother for comfort and protection we turn to Mary for help in our trials and temptations. She is the sinless one who intercedes before God for us. Today we celebrate her sinlessness. Even from the moment of her conception she was free of original sin. Sometimes mothers complain because the Church says children are born with original sin, "but my child has not sinned yet. How can the Church say my child has original sin?" But original sin is not the result of doing something wrong; original sin is a state of sinfulness that we inherit from humanity even though as infants we committed no sin. We believe that Mary was uniquely chosen by God and preserved from this original sin. The Father loved Jesus so much that he chose a mother completely free of sin for his Son. It was a grace given to Our Lady in advance through the merits of Jesus' Passion
In Our Lady's great prayer, the Magnificat, she prays, "My soul glorifies the Lord, my spirit rejoices in God my Savior." People of other faiths say if Mary declares God her Savior then she must have sinned, she must be saved from sin like the rest of us. I see no contradiction because Our Lady was saved from sin by the redemption Jesus won for us but she was saved from committing sin. So we say she was pre-redeemed. It is as if she walking and there was pit up ahead. But she didn't fall into it, she was saved from falling into it. The rest of us did fall into that pit of sinfulness and have to be saved from it by coming out of it. Mary and we are both saved from sinfulness by Jesus but in different ways. So in our daily struggle against sin and temptation let us turn to Mary the sinless one, asking her to intercede before God for us. Mary is the New Eve. Where the first Eve failed, Mary the New Eve has triumphed. So we can turn to Mary for help.
Not every item of our faith is explicitly in the Bible, which is why we have no reading from the Old Testament or a Gospel that we can choose for today that explicitly describes the Immaculate Conception of Our Lady. So the Gospel we heard today is the annunciation of the birth of Jesus to Mary. Even though it is about the conception and birth of Jesus we can get hints of Our Lady's Immaculate Conception in it. Gabriel described Mary as "highly favored" or "full of grace" and the Lord is with her. Also she has "won God's favor." These are little glimpses of the special privilege God gave Mary in preserving her free from original sin.
In the icon of Our Lady of Perpetual Help the boy Jesus ran to Mary for protection when he foresaw his Passion. In our moments of trial, let us run to Mary for help, the immaculate sinless one, because she is highly favored, she has won God's favor.
Our Lady of Perpetual Help,
Pray for us who have recourse to thee.
Copyright © Fr. Tommy Lane 2013
This homily was delivered when I was engaged in parish ministry in Ireland before joining the faculty of Mount St. Mary's Seminary, Emmitsburg, Maryland.
More homilies for December 8th - The Immaculate Conception of Our Lady
Immaculate Conception of Our Lady
Immaculate Conception of Our Lady and the Miraculous Medal
Mary Full of Grace since her Immaculate Conception: hints of Our Lady's Immaculate Conception in the Bible
Our Tainted Nature's Solitary Boast 2016
Related Homilies: Jesus came because Mary surrendered to God
Saying "Yes" to Jesus' invitation to allow Him into our Lives
First reading Where are you?