by Fr. Tommy Lane
A number of people here today have a lot in common with Zacchaeus (Luke 19), i.e. the self-employed and the priests. The self-employed and priests pay their tax once a year before the last day of October (in Ireland in 2001). Zacchaeus was a tax-collector who collected tolls on a road and sent those tolls to Rome once a year because Palestine was ruled by Rome at the time of Jesus. But there is a difference between Zacchaeus and the self-employed now. Our incomes are checked later and then we pay more tax if we had not paid enough or we get a refund if we paid too much. But what tax-collectors like Zacchaeus paid was never checked by Rome to know if they paid the just amount or not. So most people in Palestine were convinced that these tax-collectors paid only a fraction of the taxes to Rome that they had collected from others. In other words, most people suspected that the tolls they paid to the tax-collectors were far more than what Rome requested from the tax-collector. No wonder people had an attitude to the tax-collectors at the time of Jesus. No wonder that tax-collectors at the time of Jesus were regarded as sinners. (For more on tax-collectors see excerpt of Enjoying the Bible 1)
The people of Jericho were very annoyed with Jesus when he visited Zacchaeus in his own home, "They all complained when they saw what was happening. 'He has gone to stay at a sinner's house' they said." (Luke 19:7) But the attitudes of others never prevented Jesus from welcoming sinners. So no matter what people think of you, remember Jesus is always waiting for you to turn to him. He is full of mercy and compassion and never refuses anyone, no matter what their past. At the end of the Gospel passage today Jesus said, "The Son of Man has come to seek out and save what was lost." (Luke 19:10) On another occasion Jesus said he did not come to call the righteous but sinners to repentance (Luke 5:32). Jesus spent so much time with sinners during his ministry that a rhyme was made up about him,
"Behold a glutton and a drunkard,
a friend of tax-collectors and sinners." (Luke 7:34)
The leaders of the Jewish religion, the scribes and Pharisees complained about Jesus because of his ministry to sinners so he told parables about God's mercy, the parable of the shepherd searching for the lost sheep (Luke 15:3-7), the parable of the woman sweeping the house to find the lost coin (Luke 15:8-10), and the parable of the prodigal son being welcomed back by his father (Luke 15:11-32). Jesus said there is more joy in heaven over one repentant sinner than over ninety-nine virtuous who have no need of repentance (Luke 15:7). Our first reading today also talks of God's mercy, "You are merciful to all, because you can do all things and overlook men's sins so that they can repent. Yes, you love all that exists, you hold nothing of what you have made in abhorrence." (Wis 11:23-24) Our Psalm also assured us of God's mercy, "The Lord is kind and full of compassion." (Ps 145:8)
Earlier this year (2001) almost everyone in the country venerated the relics of a holy nun, St. Thérèse of Lisieux. In the last century, Jesus assured another holy nun, St Faustina in Poland, of his mercy. Jesus said to her the greater the sinner the greater the mercy. "Summon all those to confidence in the incomprehensible depth of my mercy for I desire to save all. The well of mercy was opened wide with a lance on the cross for all souls. I do not exclude anyone." Jesus said, "Tell ailing mankind to draw close to my merciful heart and I will fill them with peace. Mankind will not find consolation until it turns with confidence to my mercy and love." Jesus also said, "I desire the confidence of my people. Let not even the weak and very sinful fear to approach me, even if their sins be as numerous as all the sand of the earth all will be forgiven in the fathomless pit of my mercy." (Diary of Saint Maria Faustina Kowalska (Mass market version): Divine Mercy in My Soul
)
This is what Jesus said to St. Faustina about the Sacrament of Reconciliation, "There the greatest miracles take place and are incessantly repeated. It suffices to come with faith to the feet of my representative and to reveal to him one's misery and the miracle of Divine Mercy will be fully demonstrated. Were a soul like a decaying corpse so that from a human standpoint there would be no hope of restoration and everything would already be lost, it is not so with God. The miracle of Divine Mercy restores that soul in full. When you go to confession, know this, that I myself am waiting for you in the confessional; I am only hidden by the priest, but myself act in the soul. Here the misery of the soul meets the God of Mercy. Tell souls that from this fount of mercy souls draw graces solely with the vessel of trust. If their trust is great there is no limit to my generosity." (Diary of Saint Maria Faustina Kowalska (Mass market version): Divine Mercy in My Soul
) It is no wonder that in the reported apparitions of Our Lady in Medjugorje she asks us to go to confession once a month.
Jesus is knocking at the door of your heart. Will you, like Zacchaeus, open the door and welcome Jesus in? There is a most beautiful verse in Rev 3. Jesus says, "Look, I am standing at the door, knocking. If one of you hears me calling and opens the door, I will come in to share a meal at that person's side." (Rev 3:20)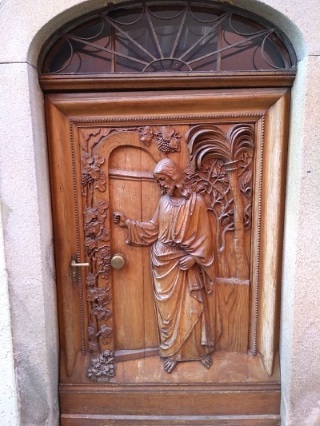 It is up to you to open the door to Jesus, he will not force his way in. Zacchaeus was anxious to see Jesus so he climbed a tree (Luke 19:4). If you open the door of your heart to Jesus it will be worth it.
When you meet Jesus you will not remain the same afterwards. You will want to give up sin and live a new life of grace. That is why Jesus said to the woman caught in adultery, "Neither do I condemn you. Go and do not sin again." (John 8:11) If you really meet Jesus you will be different. That is what happened to Zacchaeus. He would no longer cheat in the taxes. He promised, "I am going to give half my property to the poor and if I have cheated anybody I will pay him back four times the amount." (Luke 19:8) When we receive the forgiveness of Jesus we are transformed. Let us turn to the mercy of Jesus and be healed of our sins and renewed and transformed.
Copyright © Fr. Tommy Lane 2013
This homily was delivered when I was engaged in parish ministry in Ireland before joining the faculty of Mount St. Mary's Seminary, Emmitsburg, Maryland.
Related homilies for the Thirty-First Sunday Year C
Come down from your tree because Jesus wants to stay with you! 2010
Related Homilies: Jesus forgives Peter and restores him
Parable of the Prodigal Son - saints have a past and sinners have a future
The Woman caught in Adultery - "Go and do not sin any more"
Remove the weeds from your life instead of judging the weeds in others 2008
Weeds among the Wheat, God's Infinite Mercy - a dialogue homily
Let us wash at the Pool of Siloam and be filled with Jesus' light
Let Jesus dispose of the garbage caused by sin
stories about God's Mercy