by Fr. Tommy Lane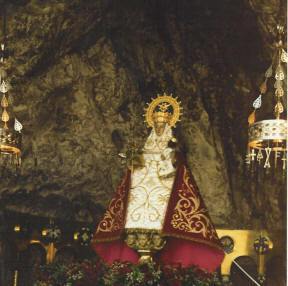 We are in the province of Asturias. The Muslim invasion of Spain from Africa began in 711 and the beginning of the reconquest of Spain began from here in Covadonga in 722 with the victory of Don Pelayo and his army. The name Covadonga, comes from two words, cueva meaning "cave" and donga meaning "deep", so it means "deep cave." According to legend, Don Pelayo, received the breath of the Virgin who appeared before the Christian soldiers in the historic battle of 722. After the victory, the cave in which the soldiers had taken refuge was converted into a place of Christian worship and King Alphonso I built the first chapel here. Tradition has it that even before the battle this cave had been dedicated to Our Lady. This victory in 722 laid the foundations of the Asturian reign whose royal court was first established in Congas de Onís, the village in the valley below which we have just seen. The Asturian court was later transferred to Oviedo during the reign of Alphonso II. (King Alphonso II built the Camera Santa for the Sudarium in Oviedo) A monastery was built at the foot of the cave which guarded "la Santina" the Virgin of Covadonga, the patron of Asturias but the monastery and image were destroyed by fire in 1777. From the cave a long tunnel has been bored through the rock which contains the tombs of Don Pelayo and his wife, and King Alphonso I. The tunnel leads to the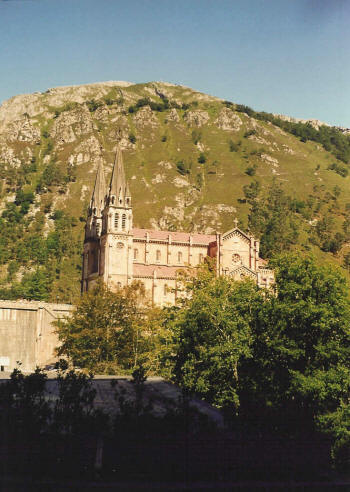 Basilica of Covadonga built between 1877 and 1901. Most pilgrims enter the cave using the tunnel from the Basilica esplanade rather than climbing the more than one hundred steps up the hill. Pope John Paul has visited and prayed here. The surrounding mountains are part of the Picos de Europa (Peaks of Europe), Spain's largest national park.
It is good to reflect that now Mary's House as it is called, on Mount Nightingale north of Ephesus in Turkey, is an ecumenical Marian shrine, visited by both Christians and Muslims. We can use our visit here to Covadonga today as an opportunity to pray for the unity of all peoples in peace and harmony before God. Mary Queen of Peace, Pray for us.

This was delivered when I was Spiritual Director for a pilgrimage while engaged in parish ministry in Ireland before joining the faculty of Mount St. Mary's Seminary, Emmitsburg, Maryland.